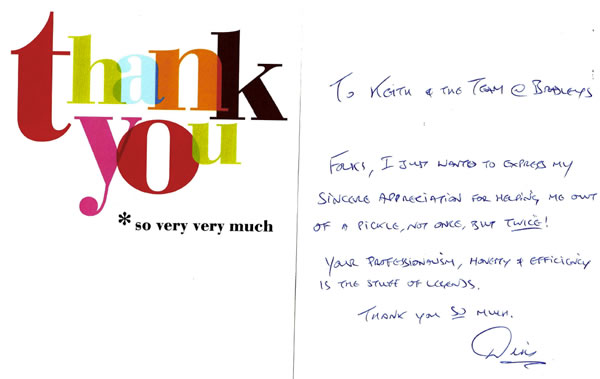 ---
Just a quick note to say thanks,
I called this morning locked out of my house in New Hartley and just wanted to send my thanks to you for getting me in so quick. Your locksmith arrived promptly and got me in my house despite my Yale Superior lock doing what it's supposed to do (keep people out!). I'll definitely keep your details close to hand and will recommend your services to others.
Thanks for your great service
Adam McManus
---
Hi,

Just to say that we are absolutely delighted with the service we received from Bradleys. Your engineer came very promptly, diagnosed the problem with our door lock most efficiently. It needed a whole new multilock to be installed. This was sourced with amazing speed, and was installed on the very next day after the initial visit. And the engineer put up with a bouncy dog, and an inquisitive toddler. Very impressive.

Yours,

Michael Prestwich
Longframlington
---
Debt to Good Samaritans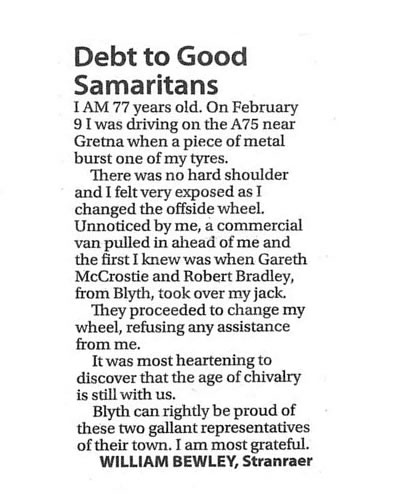 At Bradleys, we don't only care about paying customers.
---
Dear Sirs,
Our Company would like to send a very grateful thank-you to Bradley's (Bill and Alan) for getting us out of the very difficult position we found ourselves in on Tuesday morning 8th July, when the lock to our main alarmed office door was unaccessible.
The willingness and expertise shown by Bill and subsequently Alan, was second-to-none, and due to their help we were able to access our offices very quickly. True gentlemen!!
So, once again, thank you very much.
Kind regards,
June Gascoiogne
DIRECTOR - XXXXXX
---
Hi Rob
Thank you for your help with the works yesterday at Pocklington XXXXXX in York.
Please see the following from the Project Manager;
"Many thanks for organising for the safe to be removed from site today, the guys that came were brilliant, it was a real battle but they ensured the works were completed in a safe and professional manner."
Always nice to hear good things :)
Georgie Ingram
NETWORK TRANSFORMATION ADMINISTRATOR
---
Hi Keith
Thanks for the invoice, I will have it sent up to Financial Accounts today for them to process the payment.
Also I wanted to say thanks for all your help with sorting this out. Alan, who came out was very professional and did a good job.
Best Regards
Grace