Some Safe Information
Bradley's have been servicing and supplying safes for over 20 years now and have a large range of safes in stock ranging from as little as £20 up to £900 with many more only a phone call away. Manufacturers such as Churchill, Dudley, Chubb, Dominator, Burton & Phoenix offer ranges which allow us to supply to domestic and professional customers with almost any type of safe to suit the customers needs.
At Bradleys Master Locksmiths we sell New and Reconditioned Safes. The current range is not exhaustive with more added weekly so feel free to contact us directly on 01670 352974 or through this form for other options.
As a general rule, there are 3 different types of safe, above floor, underfloor, and the wall safe. The above floor, or free standing safes, are the easiest to use and are available in a large range of size and quality. These safes are further divided into burglar resistant and fire resistant safes.
It is necessary for the customer to decide which they feel is the greater risk to them, burglary or fire, for although most fire safes offer a degree of security, they are not up to the same standard of the burglar resistant safe. Conversely, most burglar resistant safes will offer a degree of fire protection but would be largely useless in protecting computer media or photographs in a fire.
For customers who call into our shop and are unsure which type of safe to buy, I usually ask "How many houses in your street have been broken into or suffered a theft over the past 10 years and how many have burned to the ground in the same period". Most people then choose a burglar resistant safe...
Please check out the tabs below for further explanation of fire and theft resistant safes.
Always check with your local qualified Master Locksmith and your insurance company when choosing a safe for your home or business. Recent Government statistics show that there are over 1,500,000 unlawful entries each year, half of which are domestic, and half are commercial premises. For well over 95% of these, the intruder will remain on the premises for less than 5 minutes while the response time for an alarm call is over 10 minutes. This gives the burglar ample time to remove easily carried equipment and valuables such as videos, TV's, computers, watches, jewellery, cash and credit cards. However, it does not allow him sufficient time to locate and open a small free standing or underfloor safe.
Fire is another threat. More than 110, building fires breakout in the UK each year. The loss of mortgage deeds, share certificates and other paper or computer media information are other items, which could be kept out of harms way in a safe. Statistics show that up to one third of businesses, which lose their stored information, go into bankruptcy within 2 years of the loss.
In a recent interview, Mr Keith Bradley, who is a qualified safe engineer, said " We have bought and sold safes for over 20 years now, and have seen the amount of people installing safes into homes and small businesses increase dramatically over recent years. It is important though, to make sure that you have bought the correct safe for your requirements. If you don't, insurance companies may not be prepared to cover a loss through burglary or fire if the wrong type of safe has been fitted. Ideally, speak to a qualified locksmith or safe engineer, and preferably a member of the Master Locksmiths Association as the Association inspect members regularly to ensure that the members are kept up to date with changes in legislation and other requirements".
It is very important it is to make sure you have the correct safe for your requirements, as can be seen from the cuttings below which were taken from the Which Report on domestic safes in back in March 2006 (go to www.which.co.uk then enter 'safes' in the search field)
'Which' report early 2006
Nine of the 15 safes on test are Don't Buys. In most cases, you get what you pay for. All the safes costing £50 or less were easily broken into.
Fire safes, such as the £283 Sentry S3607 and £234 Sentry S0409, may protect paper documents in a fire, but offer poor security.
Incredibly, our experts picked the locks of the Argos and Detroit in five seconds. It took 22 seconds to drill open the Burton, so it's not a patch on its Best Buy brother, the Burton Torino, while the Yale was prised open in ten seconds by whacking it hard with a metal bar.
'Which' Burton Torino Safe Report
The Burton Torino GMK/ is rated as our Best Buy and is easily the most secure safe we tested.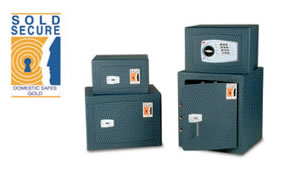 It successfully passed every trial our experts put it through. We drilled it, hammered it and tried to wedge open the door with a hammer and chisel, but it wouldn't budge. It's the only model on test that we couldn't get into at all - so you can put important documents and small valuables in it with confidence.
(The Burton Torino is available from Bradleys - please check elsewhere on the site or contact us for details)
Crazy as it may seem, last year we were called out to a home to gain access to one of the safes mentioned in the above article (one which took the experts 5 seconds to open) and the customer had over £23,000 in cash in the safe! Definately NOT recommended...
Amongst these pages you will find help files explaining some of the common - though sometimes confusing - terms used in the safe engineering world.
---
Moving Safes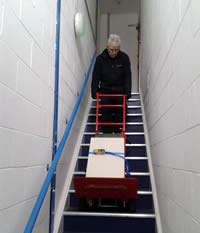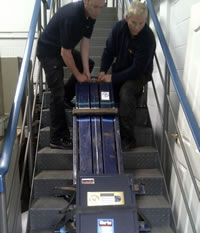 Training on stairclimber 1 & Training on stairclimber 2
---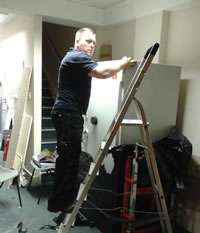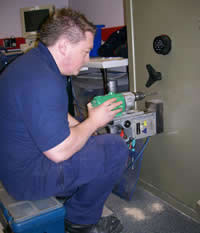 Robert preparing a zugil 1900mm high 1600kg safe & Rob opening Belmont 5020 safe
---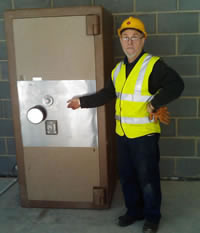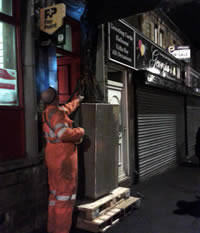 Bill commisioning SLS super commercial 1 6325 a & 1600kg ministry safe being moved at night
---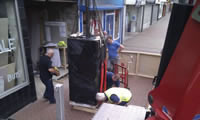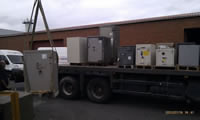 Rob & Bill with 1600kg safe & Moving warehouse july 2012 021
---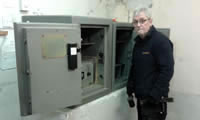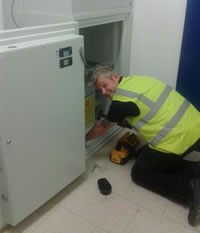 2 x 480kg safes ready to be lifted from 800mm high plinth & Alan fixing a Sistec 1280kg safe