---
Locks for UPVC (Cylinder Key Lock)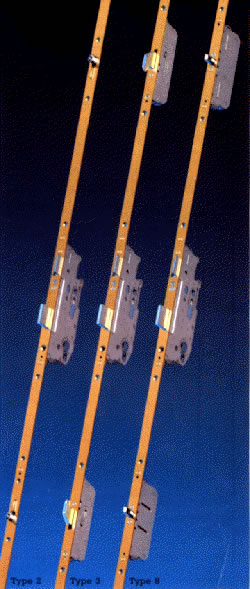 Multipoint Locks
Multipoint locks are becoming very common in European buildings.
The advantages of a multipoint lock are obvious. With single point locks, any force placed against the door focuses on one point only, whereas the multipoint locks spreads the force across the whole edge of the door lock and consequently, the whole height of the door.
One of the main reasons for their popularity has come from the increased use of plastic, or PVCu, doors throughout Europe. However, there are many types manufactured for timber and steel doors also.
As can be seen from the picture opposite, they come in a range of locking options as well as sizes. If you look closely at the picture, you will see that all have a central body with a latch and deadbolt but the locks may be fitted with a different type of hook, roller or deadbolt on the top and bottom locking body.
If you find you need to replace your multipoint lock, or would like to upgrade to a stronger, more secure lock, please give us a call as these locks are far more difficult to source and fit than the standard mortice locks or rim locks. Prices vary widely for the different grades of security, quality and size.
---
Euro Profile Cylinders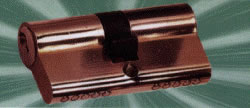 The name for these cylinders comes from the shape (profile) of the cylinder and the fact that they were first produced for the European market. These cylinders are often used with the Multipoint locks shown above and are available in a large range of length, quality, security & of course, price.